Yellowtec has announced a remote newsgathering solution featuring the company's iXm recording microphone and iXm Uplink mobile app for iOS devices, giving a high-quality, handheld system for recording, processing and transfering audio files to the broadcast studio via email, Dropbox or FTP.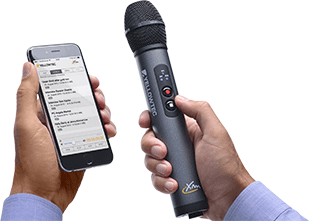 The workflow reduces equipment costs, eliminating the need for more expensive field recorders to gather interviews in the field. 'The main purpose of this combined solution is to make life easier on the field journalist,' says Yellowtec Sales Director, Andy Mikkuta. 'The simplicity of the solution removes the technical burden of newsgathering from the equation. Reporters can have complete files back to the radio station within ten minutes of an interview.'
The iXm Uplink app provides sophisticated editing, archiving and meta tags features, connecting to the iXm recording microphone using a Toshiba FlashAir wireless SD Card (recommended) via Wi-Fi. Sound files can be downloaded from the iXm, edited and transferred via GSM or Wi-Fi link. WAV, BWF and MP2 (MPEG1 Layer2) files can also be distributed via email, Dropbox or FTP.
The solution is available in the UK via HHB Communications. 'Accelerating time to air for news content gathered in the field is an ambitious target,' said Martin O'Donnell, HHB Director of Sales. 'That's why the two technologies have been integrated for a unique solution.'
iXm Uplink is now available free at the App Store.