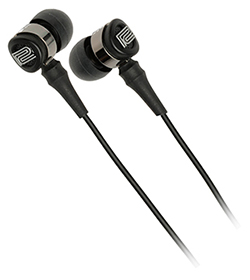 Roland has released the WearPro Mic to accompany the GoPro Hero3, Hero3+ and Hero4 video cameras that are widely used in video recording and web streaming.
Specially designed for the camera series, the mic plugs directly into the Hero with no conversion cables and supports binaural and standard stereo recording, offering sound capture for first-person soundtracks. The wearable design enables binaural audio capture using mic capsules placed at each ear.
In use, two ultra-small microphones (like earphones) plug into the mini-USB port on the Hero – the open-air structure of the earpieces ensures that outside sounds are never blocked, providing safety while shooting in crowded environments. The WearPro Mic is powered from the camera, eliminating the need for separate batteries or external power supplies.
Two included clip mounts allow the WearPro Mic to be attached to clothing, a music stand or selfie stick for everyday recordings for webcasts, interviews and stereo music capture. Two windscreens are included, along with four different rubber sleeve pairs to fit ear sizes from kids to adults.
The WearPro Mic works with the Hero3, Hero3+ and Hero4 cameras from GoPro, but is not compatible with the Hero4 Session camera.
More:
www.rolandus.com
More:
www.roland.co.uk