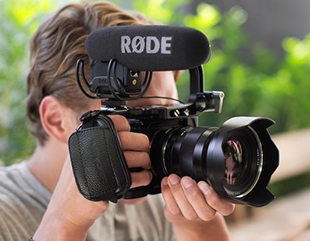 Røde Microphones has announced an upgrade to its VideoMic Pro on-camera shotgun mic.
Designed for use with DSLR cameras as they gained popularity for high-definition video capture, the original mic brought +20dB level boost and high, audio quality with a small form factor. Røde's all new VideoMic Pro features the Rycote Lyre suspension system, along with an upgraded microphone capsule, improving both the physical characteristics and audio performance of the microphone.
Already offered with on the VideoMic and VideoMic Go, the Lyre suspension system is widely regarded as the best microphone shock mounting solution available. Featuring a suspension structure composed of a hardwearing thermoplastic, it is far more effective at minimising unwanted vibrations, handling and cable-borne noise than traditional elastic suspensions. Virtually indestructible, the Lyre is claimed never to sag, snap, wear out or require rethreading to maintain its effectiveness.
'The VideoMic Pro was a revelation for DSLR users the world over, making broadcast quality audio accessible to everyone at an affordable price,' says Røde Global Sales & Marketing Director, Damien Wilson. 'With the Rycote Lyre upgrade, and an upgraded capsule, it's now even better value for such an amazing broadcast quality product.'