Intended for use with video cameras, Sennheiser AVX wireless microphone systems include a compact receiver that plugs directly into the XLR of a camera, where it automatically pairs with the microphone and switches on with phantom power when the camera does.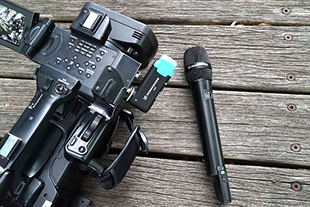 The system automatically adjusts the correct audio levels and transmits using a protected link in the licence-free 1.9GHz range. Setting up and recording high-quality audio for video has never been faster or more convenient. If a source of interference appears, AVX will inaudibly shift to a new frequency.
AVX is equipped with adaptive transmitting power, meaning that the system uses the power that is required to maintain a reliable connection between the microphone and the camera receiver. This not only ensures a stable link, it also reduces battery power consumption – as does the automatic on/off function.
The AVX receiver and transmitter are powered by special lithium-ion batteries, which can be recharged via a USB port. The transmitters display the amount of battery life remaining. For DSLRs with a jack audio input, the AVX systems include an XLR-3/mini-jack adapter cable and the mounting accessories needed to attach the receiver to the camera hot shoe.
AVX is available in three different sets: with a handheld transmitter (evolution microphone head), with a bodypack transmitter and ME 2 clip-on microphone and in a special professional version with a bodypack transmitter and an MKE 2 clip-on microphone, the benchmark product for film and TV productions. For the US, a combo pack includes both a bodypack and a handheld. The microphone head is an MMD 42, the capsule of Sennheiser's MD 42 reporter's microphone.
All system components plus additional items, such as a handheld transmitter with on/off switch, are available separately to allow assembly of tailor-made AVX systems.
More: www.sennheiser.com/avx