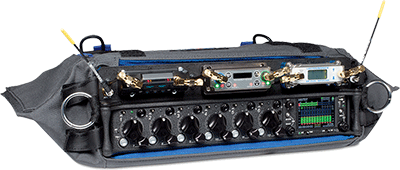 Sound Devices has unveiled its 'next-generation' field mixer – the 688, 12-input, 16-track portable mixer/recorder. The unit is at the heart of a mixing/recording system incorporating MixAssist, Sound Devices automatic mixing technology.
The 688 accepts the new SL-6 SuperSlot powering and wireless accessory. A mixing bag comprised of a 688 with attached SL-6 plus SuperSlot-compatible wireless offers audio mixing, recording and wireless receiver control all from the mixer, with dramatically simplified power distribution and interconnection.
The 688 takes from Sound Devices' 633, 664 and 788T mixers: 'We've included features called-out by our customers, including 12 channels of MixAssist, 12 inputs, eight-outputs, digital mixing and routing, 192kHz sampling, audio delay on both inputs and outputs, PowerSafe and QuickBoot' says Sound Devices CEO, Matt Anderson. 'When used with the SL-6 accessory, the 688 provides tight integration and control of wireless manufacturers' slot-compatible receivers with no cabling required.'
The optional SL-6 powering and wireless system (available in Q2 2015) simplifies interconnection between the 688 and multiple channels of wireless by accepting up to three dual-channel slot-compatible receivers. Using Sound Devices' developed SuperSlot interconnection standard, the SL-6 offers all powering, audio interconnection and control needed for SuperSlot-compatible receivers. The SL-6 attaches directly to the 688 and offers built-in NP-1 battery powering for the 688 mixer, slot receivers, plus four additional DC outputs for external peripherals. The SL-6 also offers built-in antenna distribution.
'We are continually developing technologies that offer more flexibility and choice to our customers, and we have achieved this with the SL-6 and SuperSlot,' says Paul Isaacs, VP of Marketing & Product Design. 'With SuperSlot, Sound Devices developed an open specification that will certainly become the new standard for wireless integration with audio mixers and recorders.'
Claimed to be the industry's first non-proprietary, open wireless control and interfacing standard, SuperSlot is the result of Sound Devices' collaboration leading wireless manufacturers, including Lectrosonics, Sennheiser, Wisycom and Audio Ltd.
More: www.sounddevices.com