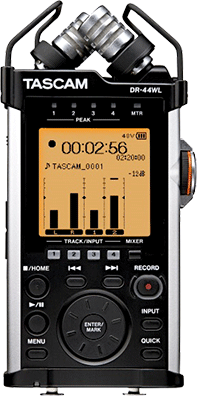 Tascam has released the DR-44WL, a four-track recorder that includes Wi-Fi for transport control, file transfer and audio streaming to smartphone or PC.
With built-in stereo condenser microphones in an XY configuration and a pair of XLR inputs for four-track recording, the DR-44WL uses Wi-Fi to enable a free app (iOS and Android) controls transport for remote recording start and stop. Audio streams to an external device, and files can be transferred over wireless connection.
Also available on the DR-44WL is a four-track multitrack mode, allowing arrangements to be recorded one track at a time with reverb. For video, the recorder includes a hot shoe mount and a stable internal clock to avoid drifting out of sync with the camera.
Key features:
· Wi-Fi transport control for remote start.
· File transfer and streaming to smartphones or computers over Wi-Fi (Streaming feature will be added in future software update).
· Stereo XY condenser microphones with shockmounting.
· High-quality mic preamp and A/D converters.
· High volume recording – up to 132dB SPL.
· Stereo, four-channel or dual recording mode for a safety track.
· Multitrack mode with reverb for four-track recordings on the go.
· Up to 96kHz/24-bit recording (WAV/BWF) or MP3 recording.
· Simultaneous WAV and MP3 recording.
· XLR inputs with phantom power.
· 128x128 graphic LCD with backlight.
· Built-in Wi-Fi network.
· Supports up to 512GB SDXC card (4GB SDHC card included).
More: http://tascam.com