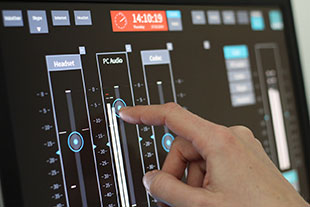 Lawo's Jade 2.0 virtual audio router manages all audio into and out of a PC system for radio broadcast applications. Its software provides a unified interface to all audio applications, including multiple audio hardware pathways. As well as storing routings for various tasks, it also provides advanced mixing and level control with an intuitive GUI. Additionally, it offers a suite of Lawo processing tools that can be inserted into the signal chain.
In newsroom applications, Jade 2.0 makes it possible to work in parallel across multiple workstations, for sound-bite editing, recording from internet livestreams, TV or radio programmes, and conducting phone interviews using VoIP. All this can be done without moving to a dedicated studio or edit suite.
As more production is handles in the field, laptops have become mobile audio workstations – the Jade 2.0 audio production toolset is available when working live from situations including press conferences or centres, hotel rooms or at sporting and special events.
Because Jade 2.0 is simple to operate, it enables novice users, journalists and news editors, to operate more independently. This promises to reduce costs and free audio experts for more challenging programming content.
More: www.lawo.com