Tascam has aimed its DR-60D at on-set filmmakers and videographers using DSLR cameras.
The DR-60D is a four-track solid-state recorder that is designed fit under any camera or into any rig, and record up to 96kHz, 24-bit audio in WAV/BWF formats to SD/SDHC media. The unit will handle simultaneouns four-track recording, includes M-S decoding, and has a slate for marking tracks, It also offers RC-10 Remote compatibility. The body structure, soft-touch keys and dials help to eliminate handling noise.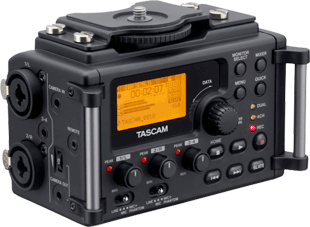 Key features:
· Tascam HDDA microphone preamps
· Independent recording level adjustment
· Two XLR/TRS inputs
· +4dBu line level input
· Phantom power (24V/48V)
· High-output mic input on Input 3-4
· Camera out connector for DR-60D mixer
· Camera in connector for sound monitoring
· Independent line out and headphone output
· 50mW/ch headphone output
· Hold switch to prevent accidental operation
· Quick button for easy access to various functions
· 128x64 pixel LCD with backlight
· USB 2.0 audio transfer (Mini USB cable included)
· Internal mixer: pan and level controls
· Low-cut filter(40/80/120Hz)
· Limiter (1/L and 2/R can be selected for link-operation)
· Delay compensation for mic position (±150ms)
· Slate tone generator (auto/manual)
· Selectable duration of slate tone from four positions (0.5s/1s/2s/3s)
· Selectable slate tone generator (off/head/head+tail)
· File name format can be set to use a user-defined word or date
· Dual recording function allows two files to be recorded simultaneously at different levels
· Auto-record can automatically start and stop recording at set level
· Pre-recording (2s sound buffer before recording)
· Self timer for solo recording
· New file starts recording automatically without interruption when maximum file size is reached
· Track incrementing
· Jump back and play function
· Equalisers function for playback and level alignment
· Resume function to memorise the playback position before the unit is turned off
· Mark function up to 99 points per audio track
· Divide function
· Tripod mounting threads (bottom) and DSLR screw attachment (top)
· Dedicated jack for wired RC-10 remote control or RC-3F footswitch (sold separately)
· Operates on 4 AA batteries, an AC adapter (sold separately) or USB bus power
· Can extend battery life with BP-6AA battery pack (sold separately)
The DR-60D is expected to have a street price of US$399.
More: www.tascam.com