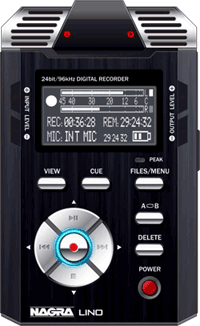 Nagra has released the Lino, a high-quality compact hand-held digital recorder designed to offer 'a lower cost recorder' for professional radio journalism and music recording applications.
Intended for recording and documenting interviews, conferences and live music, the Lino records to a removable SD memory card in the same way as the Nagra SD. It will record linear PCM files at up to 96kHz resolution and MP3 files in both 16-bit and 24-bit word lengths.
Key features:
· Built-in microphones
· Removable SD/SDHC media
· >10 hours running time (two AA cells)
· Automatic gain control
· PCM and MP3 recording formats
· Internal low-cut filter
· USB 2.0
The Lino has the same physical size and shape as the Nagra SD, but is built in a plastic outer housing rather than brushed aluminum It also uses the same software structure for all the internal settings as the SD, and is equally easy to use. It offers high-quality preamplifiers, built-in microphones and a long running time.
More: www.nagraaudio.com