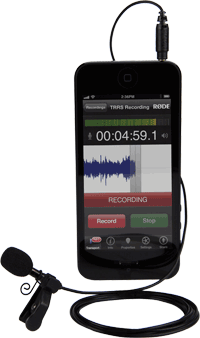 Røde Microphones has released smartLav, a lapel microphone that connects directly to the headset jack of Apple iOS devices – iPhone, iPad and iPod Touch.
Aimed primarily at film, television and broadcast applications, where audio is required in a discreet, portable format without the complication and expense of additional wireless equipment., smartLav connects to the iOS device's headset jack and records via the Røde Rec or Røde Rec LE apps.
By employing a high quality omnidirectional condenser capsule the smartLav captures over in 360°, providing versatility when mounting. A foam pop shield is included to minimise wind noise and vocal plosives, as well as a mounting clip with in-built cable management.
The smartLav has been designed to pair with the Røde Rec app for Apple iOS devices, and is also compatible with any iOS audio app that accepts input from the headset connection. Røde Rec turns the iOS device into a fully featured field recorder, with a range of equalisation presets to suit various recording situations. There are also professional editing functions and the ability to publish to SoundCloud and Dropbox directly from the app.
'The smartLav is an exciting solution that makes professional quality audio available to anyone with access to an Apple iOS device,' says Damien Wilson, Røde Marketing & Sales Director. 'For filmmakers or wedding videographers that have struggled to simultaneously record multiple talent this product truly is an incredibly simple and cost-effective solution.
'Both the smartLav and the recently announced Røde iXY stereo microphone showcase the possibilities of the Røde Rec app as more than an isolated piece of software,' Wilson adds. 'But also as a platform and hub for a range of professional grade audio devices. This platform leverages the portability and popularity of Apple's iOS devices to make content creation easier than ever.'
The smartLav is shipping to authorised Røde retailers worldwide in February 2013, at a suggested retail price of US$60/£43.99 inc VAT.
More: www.smartlav.com