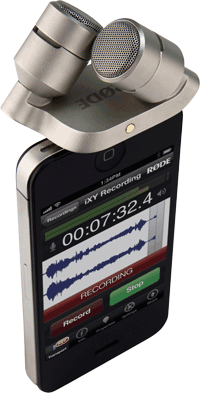 Røde Microphones has released the iXY, a stereo microphone for iPhone and iPad aimed at recording live music, meetings, lectures, reporting, dictation and sound design. It is also intended for use on-camera as a dual-system recorder for DSLR..
Equipped with 30-pin connector that allows high-quality recording at sampling rates up to 24-bit/96kHz, the mic has a matched pair of half-inch cardioid condenser capsules set in a 90° 'near-coincident' alignment and its own high-fidelity analogue to digital conversion.
Released in conjunction with the iXY is Røde Rec, a companion app for iPhone, iPad and iPod touch (available for purchase from the App Store). When used together, the iXY and Røde Rec transform an iOS device into a fully-featured field recorder. Røde Rec allows for control of the iXY's continuously adjustable input levels for recording in loud and quiet environments, as well as the high-pass filter to cut low-frequency rumbling such as air-conditioning or outdoor traffic noise.
The app provides a full suite of features including multiple sampling rates up to 96kHz, equalisation effects (compressor/expander, high-pass filter, low-pass filter, parametric EQ), nonlinear editing, geo and photo tagging, and one-touch publishing to SoundCloud, Dropbox, email, FTP and iTunes. Røde has also announced a feature-limited free version of the app, titled Røde Rec LE.
A foam windshield is provided with the iXY for outdoor recordings, as well as a rugged zip pocket to ensure the mic is always around when you need it.
'I'm more excited about iXY than any other product in Røde's 20-year history,' says Peter Freedman, Røde founder and President. 'The audio quality of the iXY is breathtaking and really affirms Røde's commitment to providing the very best audio products available at a price that's accessible to the general public.'
RRP for the iXY is US$199, £169 (inc VAT) in the UK and AU$199 in Australia. UK distribution is via Source distribution.
More: www.ixymic.com