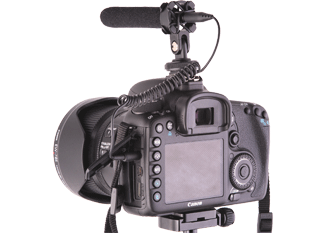 Mic W has launched the iShotgun supercardioid mini-shotgun microphone, aimed at Apple iOS, Android smartphones, tablets and DSLR camera applications.
The latest in the company's iSeries range of professional microphones for iphones, tablets and mobile devices, the mic is designed to meet the needs of portable video acquisition, news gathering and HDSLR-video/film production.
The iShotgun is an 8.5mm wide supercardioid electret condenser microphone, designed to be small, light and highly directional, and to eliminate unwanted background noise during shooting. No additional batteries are required as the microphone obtains its power directly from the portable device.
The iShotgun is supplied as a kit in robust case with windscreen, mini boom-pole, extension cable and curly DSLR interface cable, 'T' headphone/mic splitter, top headphone/mic splitter and hot shoe suspension mount for DSLR cameras.
Exclusive UK and Ireland distribution is through eMerging.
More: www.mic-w.com
More: www.emerginguk.com