Tascam has unveiled the pocket-sized iM2 stereo mic for iPad/iPhone/iPod Touch.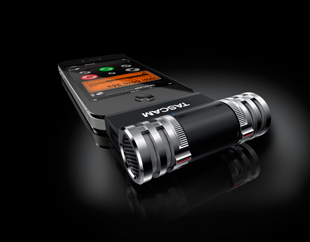 The iM2 effectively turns an iPhone, iPad or iPod Touch into a high-quality stereo recorder, with a pair of condenser microphones plugged into the dock connector. The mics
are adjustable over 180° and use the iM2's contains preamp and A/D converter. Unlike mics that use the built-in iPhone preamp, the iM2 can handle up to 125dB SPL sounds for loud concerts and instruments.
Also part of the iM2 is a stereo limiter, powered through the dock connector so no battery is required. A USB input is provided to charge an Apple iOS device for long recordings, either through a computer or Tascam's PS-P515U power adapter.
'The iM2 stereo mic was a natural succession after our well-received launch of the iXZ mic/guitar interface, says Paul Jenkins, Senior Vice President of TEAC America. 'Anyone can come out with an iOS product, but we want to ensure that our portable devices are of the utmost quality and I believe this product will be another hit with our customers.'
A PCM Recorder app will be available shortly on the iTunes store at no charge.
Key Features:
· High-quality stereo condenser microphones
· Mics adjustable 180° degrees front to back
· 125dB SPL maximum level
· Switchable limiter
· Powered through iPhone, iPad or iPod Touch dock connector
· USB input allows iPhone or iPad to charge from USB or optional PS-P515U
· Digital recording at 44.1kHz/16-bit linear PCM
· Compatible with iPhone 4, iPhone 4S, iPod Touch 4G, iPad, iPad 2
More: http://tascam.com