The Roland R-26 is a professional portable recorder with dual stereo microphones and two-channel recording 'that captures high-definition audio with natural room ambience'.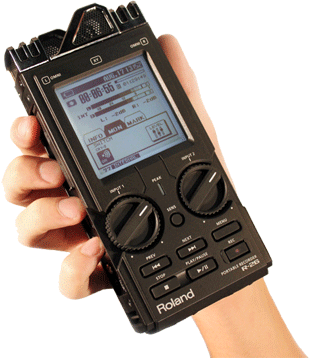 Aimed at applications including location sound design, event production, legal logging, event videography and musical performance, the R-26 features both omni and directional microphones that can be mixed the to achieve the required balance of directional and ambient sound.
The R-26 also provides XLR/TRS inputs for up to six channels (three stereo) of simultaneous recording.
Recording resolution from MP3 up to 96kHz, 24 bits are supported, and available file types include WAV and BWF. The unit can also record both WAV/BWF and MP3 formats simultaneously – these can be posted or emailed, while the high-res versions can be edited or used subsequently.
USB 2.0 allows data transfer and audio interface functionality with Windows and Mac-based computers. Users can connect the R-26 and use its built-in mics and external inputs as a high-quality input device with their audio recording software. Loop-back recording allows users to combine audio from the onboard mics with streaming audio from the PC.
Built-in onboard processing includes a limiter and low-cut filter. A large touch screen provides detailed level metering and fingertip control over many functions, and is equipped with a high-luminance backlight for visibility in low light.
Roland's proprietary IARC (Isolated Adaptive Recording Circuit) has been integrated in R-26's inputs for the built-in mics and external inputs. Its analogue and digital circuits are completely isolated with individual power supplies.