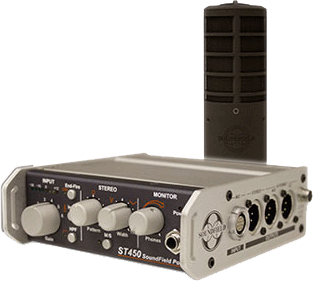 The SoundField ST450 is a portable, battery-powered microphone system aimed at location recording film and TV sound specialists. Its release follows the ST250 and ST350 systems and incorporates feedback gleaned from users of both previous models.
The ST450 electronics have been redesigned from those of the ST250/ST350 models, using new components to give improved noise performance. Also new, conversion of the information captured by its four-capsule array gives more accurate stereo and surround imaging.
All inputs/outputs are located on one side of the control unit for easy access and connectivity to portable recorders in the field. While rugged, the ST450 mic weighs 290g and may be used at a distance of up to 200m from its 580g control unit.
Like its predecessors, the ST450 generates audio in any format including mono, stereo, M/S and 5.1 surround, with one microphone. In addition, it will generate surround and stereo simultaneously. The microphone's control unit includes a built-in front-panel headphone monitor, bargraph metering, and the 'usual fine degree of control' offered by SoundField over all microphone parameters
More: www.soundfield.com