Tascam has announced the Portacapture X6 32-bit Float Portable Audio Recorder tool for videographers, podcast/YouTube creators, sound designers, and musicians making high-quality stereo recordings for smaller scale production projects.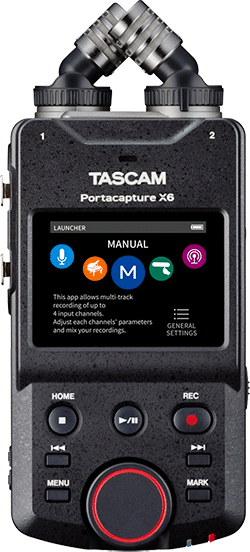 Portacapture X6 features an easy-to-use GUI tailored to the launcher screen that offers multiple recording modes for different applocations. These recording modes include Field recording, Voice, Music, Podcast and ASMR in addition to Manual, which allows access to all set-up parameters manually. The compact size of the unit makes it good for dialogue recording and interviews with or without a camera. As a multitrack recorder, the unit supports simultaneous tracks of recording (4 tracks; 2 mix) at upwards of 96kHz, 32-bit resolution
The recorder has a 2.4-inch high-visibility colour touchscreen, with two XLR inputs, and dual built-in microphones with switchable AB/true XY microphone patterns, plus an intuitive GUI.
The XLR inputs support both mic and line-level (maximum input level: +24dBu), Aux In/Camera In and Line Out/Camera Out connections. Additionally, the XLR inputs have phantom power (24V/48V).
The Portacapture X6 also features onboard processing, including a Low Cut filter and Noise Gate for reducing background noise and frequencies, a Limiter and Compressor for signal level management, plus 4-band EQ with presets for common scenarios as well as full manual set-up.
To eliminate wind noise and plosives, Tascam's new WS-86 Wind Screen is a custom form fit design made for the Portacapture X6, Portacapture X8, DR-40X and other large-format portable audio recorders.
The Portacapture X6 also has a USB interface without the need for any additional drivers. It can be used as a compact mixer with built-in microphones for live streaming via OBS (Open Broadcaster Software) or similar platforms. It also offers direct recording of narration and dialogue directly to DAW and editing software. The system can stream the total mix via the USB Type-C connector.
Adding the optional AK-BT1 Bluetooth adapter enables use of Tascam's Portacapture Control app on phone or tablet, available for both iOS and Android.
Shortly after its introduction, Tascam will release Version 1.10 firmware for the Portacapture X6, which will include support for 32-bit USB transmission to enable recording with wider dynamic range, higher resolution and audio quality, plus editing capability. A USB Mix Minus function for use with the Podcast app will also be added, and Input Settings for the low-cut filter, compressor, limiter, auto gain control, noise gate and other effect functions will be able to be saved to three preset locations and loaded for each recording app. Additionally, Unit settings and recording app settings that can be recalled with a single tap on the Launcher screen. And for those requiring the ability to synchronise audio to video, wireless time code sync using supported devices from Atomos UltraSync Blue with Tascam's optional AK-BT1 Bluetooth adapter will be made available.
The Tascam Portacapture X6 32-bit Float Portable Audio Recorder is slated to become available in Q1 2023.
More: www.tascam.com