Røde has announced the VideoMic Go II, an ultra-lightweight and compact shotgun microphone following the original VideoMic Go, one of the company's best-selling on-camera microphones,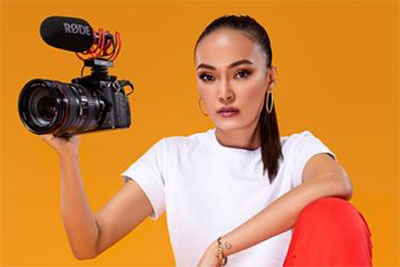 Acoustic design introduced with the VideoMic NTG and NTG5 shotgun mics claims 'unmatched transparency' and 'rich, full-bodied sound' while its 3.5mm TRS output derves cameras and USB-C output allows use with smartphones, tablets and computers. Ultra-lightweight at 89g and compact, it is intended for use in a wide range of content creation applications. It requires no batteries required and has no complicated switches or controls. The mic is compatible with Røde apps for accessing advanced features, audio processing and high-quality recording on any device.
Røde Central is a handy desktop and mobile companion app that gives users access to advanced features, including a high-pass filter, high-frequency boost, pad, and complete control over the input level and headphone output level.
The VideoMic Go II is fully compatible with Røde Connect, Røde's free podcasting and streaming software. This allows up to four VideoMic Go IIs (and other compatible Røde microphones) to be connected to a computer, with complete control over the microphone's input level, access to the high-pass filter, high-frequency boost and pad, plus studio-grade audio processing, including the legendary Aphex Aural Exciter and Big Bottom effects, and a compressor and noise gate.
For creators looking for a simple solution for recording broadcast-quality audio on a mobile device, the VideoMic Go II can also be used with the Røde Reporter app for iOS and Android devices.
'When we released the VideoMic NTG in 2019, we completely revolutionised on-camera audio, as we have been doing for well over a decade,' says Røde CEO, Damien Wilson. 'With its highly innovative acoustic design and USB recording capabilities, it pushed the boundaries of what a compact shotgun mic was capable of. Not only was it ideal for on-camera use, but it also became a go-to for mobile content creators, an excellent portable recording solution for podcasters and streamers, and a do-it-all microphone for filmmakers.
'The VideoMic Go II combines these same features with the ultra-lightweight and easy-to-use form factor of the original VideoMic Go to offer a highly versatile yet approachable microphone ideal for a wide variety of creators, from beginners to seasoned professionals. The next generation of compact shotgun microphones has well and truly arrived, and once again, Røde is leading the charge.'
More: www.rode.com