Tascam has announced the Portacapture X8 High Resolution Adaptive Multi-Recorder for portable multitrack recording, podcasts, music capture, voice capture for interviews and vlogs, and field recording.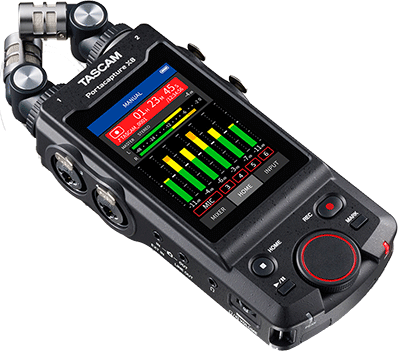 The unit fatures192kHz, 32-bit float-point recording, a 3.5 inch colour touchscreen display for easy operation, large-format internal detachable mics, six set-up modes with optimised settings and internal 8-track recording. It uses an app-like set of configurations that adjust it for various recording tasks, including and ASMR (Autonomous Sensory Meridian Response) for capturing unusual/sensory related sounds.
The Portacapture X8 comes with two built-in 14.6mm diameter condenser microphones and the Tascam's HDDA mic preamps for high-quality audio recording. It has a detachable mechanism for configuration of the A-B and X-Y microphone patterns, and supports AK-DR series optional accessories that include an adapter for DSLR camera attachment, audio routing cables and power supply.
Further featrures include compressor, limiter, low-cut filter, noise gate, reverb and auto gain control. Equally notable, wireless remote control is possible via mobile devices such as smartphones and tablets (iOS and Android). This is achieved by downloading the Tascam Portacapture Control app from either the Apple store or Google play and using the optional AK-BT1 Bluetooth dongle with the Portacapture X8.
With its two built-in large format stereo mics, four XLR and quarter-inch inputs with support for both mic and line-level, multi-function aux-in, line out, and camera in/out terminals, the Portacapture X8 provides an abundance of I/O options for varied recording scenarios, with the 3.5mm camera ext/in also supporting audio input of wireless microphones. Additionally, the camera/line output includes an attenuation function for sending audio to external devices such as cameras.
Together with its multitrack record capability of eight tracks (six tracks plus two mix) and its 8-input/2-output USB Type C audio interface with support for USB bus power, the Portacapture X8 provides audio monitoring via headphone output or built-in speaker. The recorder also provides mark and slate tone functions. Supported recording media includes micro-SD, micro SDHC, and micro SDXC cards up to 512GB capacity.
More: www.tascam.com