Røde has added the Thread Adaptor and Tripod 2 to its range of accessories.
The Thread Adaptor is a universal adaptor kit for mounting a range of devices onto any mic stand, boompole, tripod or studio arm. It features 1/4, 3/8, and 5/8-inch adaptors in an integrated set that can be configured to connect any standard thread to any standard mount both in the studio and in the field.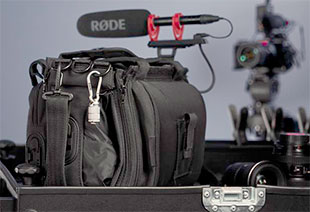 The adaptor also features a driver for tightening and loosening adaptors or camera plates (no need for a coin or screwdriver) and a carabiner for clipping it onto keys, clothing, or a camera or audio bag for safekeeping. Made from stainless steel and brass with a premium, hard-wearing finish, it fits the description of an 'everyday carry' for sound engineers, filmmakers, and photographers
The Tripod 2 is a high-quality tripod for mounting cameras, microphones, and other accessories. Previously released as part of the Røde Vlogger Kit range, the Tripod 2 is now available as a standalone.
In the closed position, the Tripod 2 is suited to handheld use, while the legs can also be opened out to a mid or wide setting for optimal positioning and stability on a tabletop. The tripod has a ¼-inch thread for attaching cameras and camera accessories, and also includes a quarter-inch to 3/8-inch thread adaptor for use with microphones. There are also six quarter-inch female thread connectors – two on each leg – for mounting accessories onto the side.
More: www.rode.com