Røde Microphones has made three additions to its range of solutions for vloggers, introducing Vlogger Kits that comprisea Røde VideoMic, tripod, phone grip, LED light and accessories.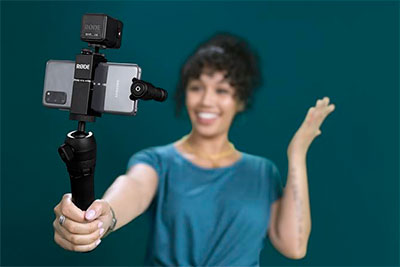 The Røde Vlogger Kits are an all-in-one for use with any type of smartphone, with options for iPhone (Røde VideoMic Me-L with a Lightning connector) and Android (Røde VideoMic Me-C with a USB-C connector) devices. There is also a Universal Edition, which includes a Røde VideoMicro for use with smartphones that feature a 3.5mm input, such as older iPhones and Android models. This can also be used with Lightning and USB-C equipped smartphones using a certified adaptor. A Vlogger Kit for everyone!
In addition to these compact microphones, each kit includes the new Røde Tripod 2, a three-position tripod with a gimbal head, Røde SmartGrip, a lightweight all-metal mount with rubberised grips for keeping smartphones stable and secure, and Røde MicroLED on-camera light, which slots onto the SmartGrip.
The VideoMic in each kit is a directional mic that reduces background noise while focusing on intelligible pick-up. They are light, compact, and include a furry windshield for outdoors filming. The VideoMic plugs directly into a smartphone and connects with any recording app. They can also be configured for main or 'selfie' camera use, and the accessories are quick and easy to set up, with the ergonomic Tripod 2 supporting both handheld and tabletop use, and its gimbal head allowing flexible positioning. The MicroLED and its diffuser and eight coloured filters ensure vloggers can adapt to any recording environment, with over four hours of operation from a single charge.
More: www.rode.com