Tascam has expanded its line of professional handheld recorders, the DR-X Series, aiming the DR-40X at videographers, voiceover artists, songwriters, and podcasters, the the DR-07X at music recording and spoken word, and the 05X at music recording, meeting logging and dictation.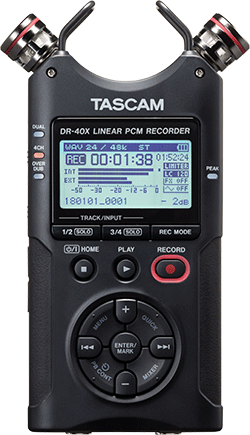 The DR-40X offers integrated unidirectional stereo mics with scalable A/B or X/Y configuration, dual XLR/quarter-inch combo inputs, built-in phantom power for condenser mics, integrated 4-track recording, and wired remote control option. DSLR filmmakers will additionally benefit from the Auto-Tone function, providing an audio cue tone identifying each recording take.
The 'powerful yet affordable' DR-07X has dual, integrated, scalable unidirectional A/B or X/Y configurable mics, while the DR-05X incorporates all of the DR-07X's features minus the scalable microphones – instead, it is equipped with a pair of omnidirectional condenser mics.
The DR-X Series also taps into Tascam's computer-based recording experience,with a studio-quality 2input/2-output USB audio interface that makes all DR-X Series recorders well suited to live streaming, podcasting and digital audio workstations.
All DR-X models boast a totally revamped user interface, making it easy to access recording, adjusting levels, deleting takes, adding markers, and other common functions. Multi-language menus in English, Spanish, French, Italian, German, Russian, Chinese, Korean, Japanese and Portuguese are included. And with increased capacity for microSDXC cards up to 128GB, DR-X Series recorders can literally operate for days on end.
Other features include a bright white backlit display that's easy to see even in bright sunlight, as well as Dictation Mode, which enables the user to instantly jump back audio playback in preselected increments including speed control and a special dictation EQ, and Overwrite Mode, which allows users to select a precise record drop-in time for replacement recording with one level of undo. The DR-X Series' Auto-Recording function can be set to begin recording when a sound is detected, and its Pre-Recording function delivers fail-safe recordings with up to 2 seconds of pre-record time.
DR-X Series recorders are available now. The DR-40X carries an estimated street price of US$199.99; the DR-07X US$149.99 and the DR-05X US$119.99
More: www.tascam.com