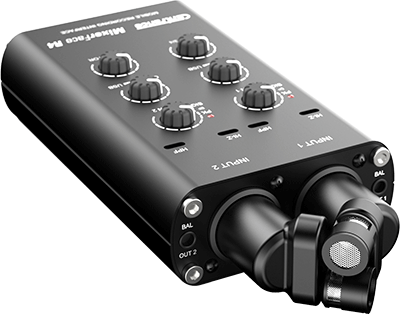 CEntrance has announced the MixerFace R4B, a new model of the mobile recording interface equipped with a pair of XY microphones.
The new R4B model retains all features of its parent MixerFace R4R, including the built-in SD-card recorder, and adds a pair of precision-matched, studio-quality condenser mics for in-the-field stereo recording and interview work. All three MixerFace models turn a smartphone into a portable DAW.
Custom-designed miniature condenser microphones fit into the MixerFace XLR jacks facing inwards and forming a precision-matched XY stereo recording set. The microphones use 48V power and offer a flat frequency response, high SPL capability, and low noise for both spoken voice and music recording. The condenser capsules in the left and right microphones are each mounted at a 45° angle, forming a 90° XY pair. As an extra application, the microphones can optionally be inserted into the opposite channels, facing outwards and transforming MixerFace into an interactive field interview tool, ideal for reporters and podcasters who interview their guests. For this use, MixerFace can be placed vertically on a table and will record two separate audio channels, for easier post-processing and mixing.
The tripod-mountable device also targets video bloggers and DSLR videographers. Paired with a smartphone or a video camera, it improves audio quality over typical on-camera audio, improving production values of semi-professional video shoots. R4B will also add redundancy to live streaming events. Allowing live music sessions to be streamed online via the smartphone, R4B can simultaneously record a safety copy at 24-bits to the internal micro-SD card recorder, creating a professional backup solution. The recorder is perfect for field recording, concert taping, band rehearsals, live performance, capturing audio from the FOH mixing position.
'With MixerFace, we have made professional location recording accessible anywhere,' says CEntrance CEO, Michael Goodman. 'This handheld, travel-friendly unit fits in a gig bag and sounds amazing, lasting for a whole session on a full charge. The new microphones sound so good, you can leave your other gear behind and pack even lighter for the trip. Whether you record a podcast or a live gig, now you can take studio-quality recording with you, anywhere you go.'
Key features:
Matched pair of custom-designed low noise, high SPL mics.
XY stereo or interview-style recording.
One-touch micro-SD card recorder.
Simultaneously record to SD-card and digital device.
Smartphone, micro-SD card, and line outputs all fed the same stereo mix for safety recording.
Internal rechargeable battery charges from any USB charger.
Dual Jasmine Mic Preamps with 48V phantom power.
Neutrik combo XLR jacks.
Dual Hi-Z inputs.
High-pass filters.
Adjustable Zero Latency Monitor.
Stereo aux input to mix in a two-channel source for practice or live performance.
AmpExtreme headphone amplifier
Balanced and inbalanced outputs.
The MixerFace R4B has an MSRP of US$499.99
More: www.centrance.com