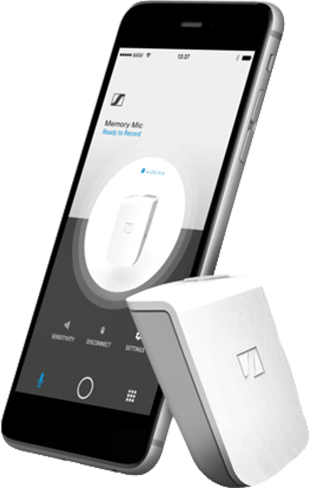 Sennheiser has announced the wireless Memory Mic for smartphones, along with an accompanying app for Android and iOS devices, targetting mobile journalists using a smartphone as a quick and simple way to capture documentary or commentary. Overcoming the sound quality of the phone's built-in microphone, the Memory Mic is small and lightweight, offering broadcast-quality sound but and able to at any distance from the smartphone.
'High sound quality remains an important area for differentiation and a hallmark of quality for video content,' says Sennheiser Senior Product Manager, Professional Audio, Tobias von Allwoerden, 'Currently, there is no other product on the market that is able to compete with the Memory Mic and offer the same fantastic combination of audio quality, price and mobility. The benefits for the mobile journalist include audio pick-up in broadcast quality via the free Sennheiser app, one-touch synchronisation of audio and videovia Bluetooth, no issues at all with range, up to four hours of operating time and convenient recharging via USB.'
For a report, commentary or documentary, the 30g Memory Mic is synchronised with the smartphone app and attached to the talent or interviewee with its magnetic clip. When recording, the integrated microphone of the smartphone is also active and works to concurrently pick up ambient sound. Using the audio mixer in the Memory Mic App, the optimum balance between ambience and audio from the Memory Mic can be set at a later time.
As the wireless Memory Mic does not occupy any input on the smartphone, journalists can still use additional accessories such as a gimbal or connect an additional wired microphone for interviews. For iPhones, Sennheiser offers the HandMic Digital or the ClipMic digital, for example. The Ambeo Smart Headset for spatial 3D audio recordings is ideal too, as it is fully compatible sonically with the Memory Mic.
The Memory Mic features a high-quality Sennheiser condenser capsule with omni-directional pick-up pattern. The omni characteristic is particularly resistant to wind noise and forgiving if a speaker changes the angle and/or distance at which they are addressing the mic. Via the app, the sensitivity of the microphone can be set at three levels in order to adapt to louder or softer voices. The operating time of the microphone amounts to up to four hours – a full recharge of the integrated lithium-polymer battery via the USB port takes two hours at most. Within an hour, the battery has recharged to about 70 per cent of its full capacity.
The Memory Mic is shipping now, and comes complete with a USB charging cable and a quick guide; the free Sennheiser app is available in the Apple App Store or from Google Play. For outdoor recordings in windy conditions, a windshield will soon be available.
More: www.sennheiser.com