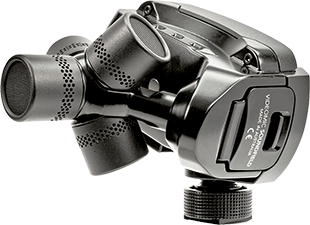 Røde has released the VideoMic Soundfield, an onboard mic for videographers capturing Ambisonic audio from a wide variety of cameras.
The design features separate control for output level, a two-stage high-pass filter at (75H/150Hz) and high-frequency shelf filter. A detachable 3.5mm output cable allows users to remove the standard TRS output cable and attach any Røde SC cable to make the microphone suitable for any camera rig. There is also a locking connector ring to connect to professional XLR inputs on cameras.
Key features:
Microphone capsule sits high on camera.
Windshield uses microfibers to improve wind resistance.
Windshield cover is optimized for shooting in all environments
High-capacity battery capacity and power functions
Microphone can operate on two AA batteries.
LB1 lithium-ion rechargeable battery offers 100 hours' continuous use.
Battery can be internally charged via micro USB port.
Fully charged in two hours
Can be powered continuously via micro USB without battery.
Improved battery door for ease of use.
Output cable switches micr on/off with the camera or when 3.5mm output cable is detached.
More: http://en.rode.com