Sennheiser has announced the Focusmic Digital mini-shotgun microphone for videographers using an iPhone.
Like Sennheiser's ClipMic digital, MKE 2 digital, MK 4 digital and Ambeo Smart Headset, Focusmic Digital was co-developed by Sennheiser and Apogee and combines a Sennheiser capsule and Apogee PureDigital preamp and A/D converter. It plugs directly into the Lightning port of the iPhone and delivers high-quality, focused audio from the direction of filming.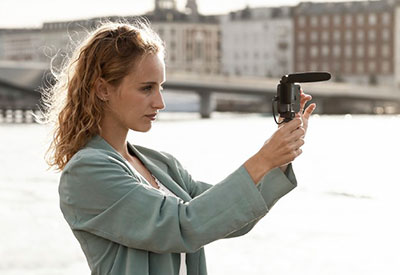 The mic attaches to the smartphone via a rugged metal grip that can accommodate a variety of iPhone models (from SE and X to 8 Plus) and case designs, and also allows it to rotate through 270°, including 'selfie' and transport positions.
'Smartphones' built-in microphones and microphone pre-amps are designed for phone calls, not for video sound, says Sennheiser Product Manager, Dela Bahlke. 'Therefore, content creators who want to deliver quality videos to their audiences need to employ an external microphone and a dedicated preamp.'
To adapt the microphone to close and distant sound sources, its sensitivity or gain can be conveniently adjusted via apps such as Apogee's free Maestro and MetaRecorder applications. These apps also allow setting of DSP filters, including rumble, hiss reducer and overload protection (gain control). These settings can be retained should the user then opt to film or record with an app that does not offer such extensive configuration options.
Focusmic Digital features an all-metal microphone casing and a sturdy metal grip. The grip is fitted with a standard quarter-inch (20 UNC) thread to attach to camera accessories such as tripods, table stands and handles. On this grip, the microphone can be turned through 270° – from the 0° rest and transport position on the back of the smartphone to the interview/filming (POV) position and further to the selfie position. A total of 14 lock positions are available to optimally direct the mic at the sound source.
The Focusmic Digital is supplied complete with a foam windshield. No batteries are needed as the microphone is powered directly by the smartphone. Estimated availability is Q2 2018.
More: www.sennheiser.com