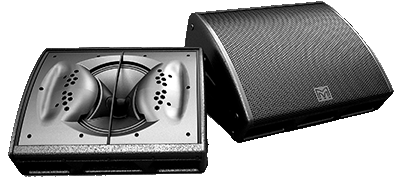 Comprising the XE300 (1 x 12-inch LF) and XE500 (1 x 15-inch LF), Martin Audio's XE Series stage monitors are designed with a defined coverage pattern that allows the artist freedom of movement, while reducing overlap with adjacent monitors.
Developed in consultation with leading monitor engineers and combining sleek, low-profile enclosures with unique Coaxial Differential Dispersion technology and a patent pending third static waveguide, the XE series is partnered with Martin Audio's new iKON four-channel amplifier.
'The world of stage monitoring has been stagnating for far too long with much of today's monitor technology based on decade-old solutions,' says R&D Director, Jason Baird. 'XE changes the game with the introduction of high performance Coaxial Differential Dispersion drivers with an additional contour-moulded static third waveguide that increases the size of the HF horn mouth to maintain pattern control over a wide frequency band and avoid spill outside the coverage area. Its rolled contour reduces diffraction and further improves pattern consistency at the lower end of the HF pass band.
'Because you can go right up and over the monitor as well as further back without significant changes, the flexibility for an artist and engineer is greatly improved. This, coupled with the fact that the XE500 has a staggering 143dB capability makes it the definitive article in premier monitoring.'
More: www.martin-audio.com