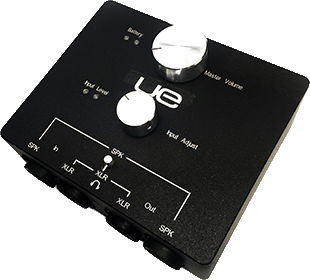 Ultimate Ears Pro promises to simplify personal stage monitoring with the plug-and-play UE Pro Sound Tap.
The compact stage accessory plugs directly into any on-stage speaker and taps into the sound mix, passing sound through, without impactingon, the system. Musicians can plug in custom or universal in-ear monitors, and turn an existing stage monitor mix into an in-ear mix.
'Before UE Pro Sound Tap, not a week would go by without a musician asking us how to use their new in-ear monitors on stage,' says Ultimate Ears Pro General Manager and VP, Philippe Depallens. 'The entire ecosystem can be complex and intimidating when you first start using in-ear monitors. This inspired the team to create an easy and affordable solution that makes it simple to use in-ear monitors on stage, night after night, venue after venue.'
UE Pro Sound Tap has been designed to work with as many systems as possible – including such as stage wedges, side fills and other stage equipment. It supports both line-level or speaker-level inputs. A two standard 9V batteries give 40-hours of operation.
The UE Pro Sound Tap is available now at a suggested retail price of US$249.