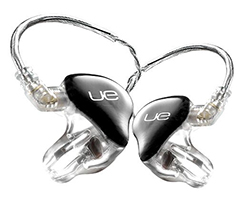 Ultimate Ears Pro has announced the UE 18+ Pro, the second generation of its flagship in-ear monitor.
The UE 18+ Pro adds UE Pro's proprietary True Tone Drivers to a redesigned acoustic system. This accompanies the original UE 18 Pro's four-way crossover, triple bore and six drivers per monitor, and is taken from the UE Pro Reference Remastered . The drivers extend the frequency range by 3kHz to enhance the upper band frequency response, and an adjusted midrange gain improves the monitor's presence.
'The guiding motto among our team is that getting better has no finish line,' says Ultimate Ears Pro. VP and General Manager, Philippe Depallens. 'We've made incredible technological headways in the past few years, as the first to pioneer 3D printing and technology for custom in-ear monitors. Because of this innovation, we're able to control the variability of the internal architecture for even greater sound control. No matter if you're an audiophile in Japan, a DJ in New York City or a session guitarist in Nashville, you're getting our very best with the UE 18+ Pro.'
The UE 18+ Pro can be plugged into any audio interface with the 3.5mm headphone jack or included quarter-inch adaptor. It is expected to be available worldwide in December 2016 at US$1,500. Numerous faceplate colour options and custom faceplate designs are available.