Lambda Labs has extended its CX line of monitor loudspeakers with the CX-2A 12-inch coaxial model, promising high resolution, low-end reproduction and very high SPL handling with maximum gain before feedback.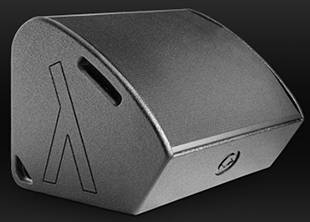 The active (bi-amped 1kW RMS) loudspeaker has a point-source axialsymmetric dispersion of 75°x75°, and is positioned between its CX-1A and CX-3A counterparts. It can be employed on stage in both close-field and far-field positions at angles of 35° and 58° respectively.
Due to the 65Hz cut-off frequency and the use of a 12-inch heavy-duty driver, the CX-2A outperforms the CX-1A where there is a demand for increased levels with greater low-frequency content. The CX-3A, featuring a beryllium high-frequency unit, offers still geater low-frequency performance.
Like all active Lambda Labs loudspeakers, the CX-2A is equalised using FIR filters, guaranteeing a linear-phase music reproduction down to 200Hz. With the use of the preset button, the CX-2A can be configured in four modes of operation – from a versatile stage monitor to standalone box or flyable PA system with integrated EPS rigging system and optional subwoofers. The 2mm front grille provides robust crush resistance and is visually appealing covered with acoustically transparent fabric.
More: www.lambda-labs.com