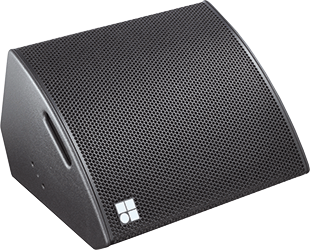 d&b audiotechnik has released the Max2, a passive stage monitor that can also be pole-mounted on a d&b subwoofer and used as a small full-range system.
Small and light, the Max2 still provides a broad frequency response extending from 55Hz to 18kHz with a conical dispersion of 75°. In a marine plywood enclosure and protected by a rigid metal grill, the 15-inch neodymium LF driver and the coaxially mounted 1.4-inch compression driver share the same magnet structure which allows for a compact and unobtrusive cabinet design.
The Max2 can be driven by d&b amplifiers using the Max2 set-up or by a linear power amplifier, allowing it to be used in conjunction with other stage monitors.
'The d&b System reality is about providing optimal acoustic results for audiences and performers,' says d&b Product Manager, Werner 'Vier' Bayer. 'The Max2 takes inspiration from the original d&b Max monitor, which appears on stages all around the world. It is the ideal solution for any stage where clarity and consistency are key requirements.'
More: www.dbaudio.com