New to the Next-proaudio LAm stage monitor family, the LAm114xA is reckoned to be the world´s first 14-inch self-powered stage monitor.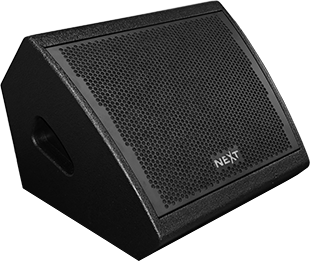 The stage monitor incorporates advanced coaxial 14-inch speaker, custom made by B&C and a high performance DPA amplifier module, capable of generating 1,650W (rms) for a very high acoustic pressure. The design combines the voice reproduction clarity associated with 12-inch drivers with the bass extension typically of 15-inch speakers. The high-frequency reproduction is handled by a 2-inch exit, 3-inch voice coil, HF neodymium driver for the critical voice frequency range.
The cabinet's small footprint and low weight, combined with the absolutely linear and extended response at very high pressure levels, makes the LAm114xA the well suited to both small and large venue use.
The heart of the LAm114xA, is a powerful, lightweight, highly efficient class-D power amplifier module, with switch mode power supply, that offers both sonic punch and balanced sound at any level. The integrated DSP and low-noise AD/DA converters give eight selectable presets (six factory defined and two user-defined) –accessed by a selector on the module front panel or real-time edited on a PC, using the supplied Soundware software via USB remote control. This permits easy customisation of the sound programme for different applications and venues.
With the Soundware software it is possible to edit each one of the six pre-loaded presets and store it in one of the two free memories. Editable parameters are: input equalisation, input delay, input high-pass/low-pass filters and a Bass Enhancer function. A total of 255 units can be controlled simultaneously by the software.
More: www.next-proaudio.com