DAS Audio has launched the Event M210A three-way stage monitor.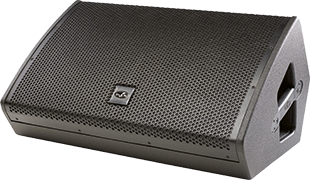 The dual-band configuration of the speaker permits a twin 10-inch driver to work in tandem for maximum power at low frequencies. Above the low-frequency range, digital signal processing allows the drivers to operate independently in specific frequency ranges, eliminating off-axis interference and maintaining polar and frequency response characteristics throughout the low and low-mid operating ranges.
The loudspeaker units have been teamed up with a single M-60 compression driver attached to a new, asymmetric waveguide. The purpose-designed unit offers a 20º up/30º down vertical coverage for pattern control in the artist's listening area.
The Event M210A wedge is powered by a three-channel class-D amplifier, which provides 360W peak per channel. The amplifiers rear panel includes quality Neutrik XLR and powerCon connectors, status LEDs to facilitate set-up.
The M210A enclosure is manufactured using Baltic plywood and is finished with the durable ISO-flex protective coating. A powder-coated steel grille protects the components from damage.
More: www.dasaudio.com