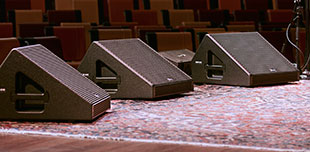 Meyer Sound has expanded its rstage monitor range with the launch of the active MJF-210 wedge.
The MJF-210 is the lightest stage monitor in the company product line, and offers the performance of the MJF-212A stage monitor, which has been used by Metallica, Usher, Judas Priest, and Michael Bublé. 'The MJF-210 started with a customer's request to bring the intelligibility and power of the MJF-212A into a more production-friendly package,' says Pablo Espinosa, chief loudspeaker designer and VP of R&D. 'The end result is a product that reflects users' needs in the field, and its small footprint also offers more flexibility in bringing self-powered advantages to the stage.'
The MJF-210 features a low-profile design with a high power-to-size ratio and very low distortion. Each monitor measures less than 14-inch high and weighs 67lb, and provides the practical advantages of a self-powered system, including reliability and ease of set-up and configuration. The drivers are powered by a three-channel class-D amplifier.
For real-time monitoring of loudspeaker parameters, the MJF-210 can be integrated into the Compass RMS remote monitoring system using the optional RMS module. Compass RMS features the RMServer and can be controlled in the Compass software.
The front of the MJF-210 slopes at an optimal 40° from the stage, while the constant directivity horn (50° H x 70° V) gives performers freedom to move on stage while staying within the vertical coverage.
For applications with higher power requirements, the MJF-212A stage monitor is available.