PreSonus has released the StudioLive AI-series Active Integration Loudspeakers, claiming them to be 'the first active loudspeakers that deliver studio-monitor accuracy onstage'.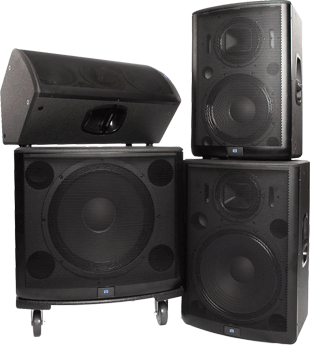 All StudioLive AI-series speakers incorporate Fulcrum Acoustic's TQ Temporal Equalization algorithms, which use FIR filters to eliminate horn reflections and correct linear time and amplitude anomalies. Another key component of the design is its use of Active Integration technology, which combines wireless and wired networking and communications with the aforementioned powerful DSP to create a unified working environment.
All StudioLive AI-series loudspeakers include a USB Wi-Fi module to connect to SL Room Control software over a wireless network. SL Room Control is a system-configuration application for Mac OS-X, Windows and iPad that provides both individual and grouped speaker control and includes a 31-band graphic EQ and an eight-band parametric EQ, mute, solo and level control, in addition to performance monitoring (over temperature, click detection, and excursions). A network-setup wizard is also included to connect each speaker to a wireless network. An Ethernet port on each speaker can be replaced with an AVB option card (available late 2013).
Full-range AI-series loudspeakers are available in three configurations. Each powered, three-way loudspeaker uses a custom-designed, 8-inch coaxial speaker with a 1.75-inch titanium compression driver to reproduce the mid and high frequencies. The triamplified, Class D power amplifiers in each model (quad-amped in the 328AI) deliver a combined 2kW of power.
The StudioLive 312AI has a 12-inch ferrite speaker to handle low-frequency reproduction. Featuring dual 8-inch ferrite speakers for low-frequency reproduction, the StudioLive 328AI delivers full-range, high-powered performance, yet is streamlined and compact. For the large venue that needs a bigger low-end, the StudioLive 315AI provides three-way operation with a 15-inch speaker for the lows.
Each full-range system has a combo XLR/TRS line input and an XLR microphone input with an XMax class-A mic preamplifier and 12V phantom power, as well as an XLR audio throughput. The full-range speaker systems are pole-mountable and have two side handles, interlocking stacking and M10 fly points. All enclosures are of lightweight plywood construction.
Three operation modes allow a choice of DSP presets for differing applications, such as MP3 playback, live performance, or stage monitoring. Users can also create a custom preset using SL Room Control and store it onboard for use later.
In addition to the full-range, three-way systems, PreSonus has released the StudioLive 18sAI, a powered, 18-inch, ferrite subwoofer designed to complement the full-range StudioLive AI speakers while still being flexible enough to work with other powered loudspeakers. A 1kW amplifier powers the subwoofer. The StudioLive 18sAI offers stereo line inputs (XLR/quarter-inch combo) and full-range stereo line outputs (XLR) that can be summed to mono. An alignment delay can be set to 0, 2, or 4 feet, allowing the subwoofer to combine with a full-range system.
Each full-range, three-way speaker system includes a switch that engages an External Subwoofer mode. In this mode, a custom low-cut filter ensures that the bottom frequency range of the woofer and the top range of the StudioLive 18sAI subwoofer overlap, and an alignment delay and phase correction are enabled, creating a true time- and phase-aligned, four-way system.
The StudioLive 18sAI subwoofer offers an additional alignment delay that can be set to 0, 2, or 4 feet, allowing the full-range system to be placed on the subwoofer pole (the 0 setting) or with the subwoofer in front, or with the full-range system onstage and the subwoofer on the floor.
Custom accessories for the AI-series speakers include a mountable Sub Dolly to make hauling the 18sAI subwoofer easy and a pull-tested Sub Pole to mount a full-range system on the 18sAI. An M10 Kit, which contains four M10 eyebolts, lets you fly any full-range model in a permanent installation. Protective covers for the 312AI, 328AI, 315AI, and 18sAI are also available.
All models are expected to ship late in the first quarter of 2013.
More: www.presonus.com