Aviom has released the A360 Personal Mixer, introducing features for both stage and studio.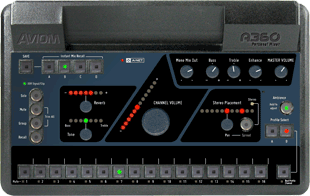 'The number one feature we've been asked for over the years is more channels,' says Chandler Collison, Aviom's Director of Marketing. 'The key was to provide more content and control for the mix without just throwing more channels and complexity at musicians who are trying to focus on music not mixing.'
The A360 features a 36-channel mix engine which can be used to mix up to 17 mono or stereo channels, plus mono or stereo ambience and volume, tone and reverb control on standard mix channels. The A360 also includes a revolutionary Stereo Placement pan-spread control that allows the width of a stereo channel's image to be controlled independent of its left-right placement in the stereo field – intended for IEM and headphone users, where it improves spatial perception as well as clarity of the mix.
The seventeenth channel on the A360, the Dual Profile Channel, allows access to two independent combinations of channel volume, tone, reverb and stereo placement for a 'favourite' channel. This may be set to mirror one of the 16 standard mix channels or for additional mix content. Ambience can be added to the mix either using the onboard ambient mic or by using network channels. Ambience can add or removed with the single touch of a button.
'Musicians aren't engineers and a mixer designed for musicians needs to respect that,' explains Aviom Product R&D Manager, Ray Legnini. 'Features like the Dual Profile Channel, One-Touch Ambience, and Instant Mix Recalls allow musicians to adjust their mix during a performance without diverting their attention from their music.'
The A360's master output section includes standard bass and treble tone controls, and adds an Enhance control to provide more sonic presence for performers using in-ear monitors. It also offers the ability to easily connect a subwoofer, shaker or mono wedge monitor using the Mono Mix Out via a rear-panel XLR. In addition, there are standard quarter-inch and 3.5mm TRS stereo outputs.
The A360 can be integrated into existing Aviom personal mixing system. Based on an enhanced version of Aviom's Pro16 A-Net protocol, Pro16e, the technology driving the A360 Personal Mixer allows multiple 16-channel banks of monitoring content to be delivered over a single Cat5 cable. Each A360 in a system may use the default channels, or audio channels can be selected and organised individually for each personal mixer, drawing from a network pool of up to 64 channels.
See also:
More: www.aviom.com