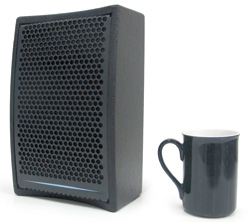 DX5 is the latest addition to APG's Dispersion Series of multipurpose, monitor speakers offering a smaller alternative to the DX15, DX12 and the recently launched DX8.
Like the rest of the range, the DX5 is a coaxial design with no side flanks to minimise distortion and diffraction. It is well suited to close-field listening applications – including stage monitoring, distributed systems and delay or fill for high-power PA systems. Its compact dimensions also make it useful where discretion needs to be combined with high-quality sound reproduction. In addition, the DX5 is suitable for front fill applications as it displays an exceedingly low profile when used horizontally. Other possible uses include stage monitoring for theatre, TV studios and conference room applications.
Combined with APG subwoofers, the DX5 provides a powerful compact system for sound reinforcement in small venues or theatres and performance spaces as well as for conferences, exhibitions and fashion shows.
A number of flying and mounting accessories are available, as well as dedicated processors depending upon application. It can be flown or indeed wall-, ceiling- or pole-mounted. Handles on the back of the cabinet make the enclosure easy to manage.
The DX5 will be shipping in January 2013.
More: www.apg.tm.fr