Aviom has announced a series of Pro16 Personal Mixing Systems, promising 'the perfect mix of gear for most performers or groups on stage or in the studio'.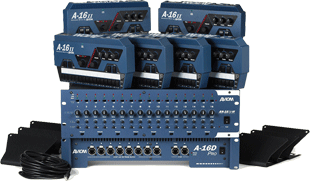 The Mix1 One-Mix Personal Mixing System features one A-16II Personal Mixer, one AN-16/i Input Module and one MT-1 Mic Stand Mount for the musician who is ready to move away wedge monitors to a personal mixing system without waiting for the rest of the band to do so.
The Mix4 Four-Mix Personal Mixing System and Mix6 Six-Mix Personal Mixing System offer four and six A-16II Personal Mixers and MT-1 Mic Stand Mounts respectively. These packages also include Aviom's A-16D Pro A-Net Distributor, which distributes both audio and power to the personal mixers over the included Cat5 cables. Each of these systems comprises all the components for an entire band monitor system. The Mix6Y Six-Mix Personal Mixing System for Yamaha offers the same components but includes an Aviom16/o-Y1 A-Net Card instead of the analog input module so users can connect directly to a Yamaha console.
The MixSP Standalone Personal Mixing System and MixMZ Multi-Zone Personal Mixing System are designed for unique user situations and requirements. The MixSP is a standalone package that comes with an Aviom AN-16/i-M Mic Input Module, that allows traveling bands to work independently of the console and sound engineer at a given venue. The MixMZ is a multi-zoned system designed to introduce more channels into the system but that still keeps it simple for musicians to use.
More: www.aviom.com