Replacing the company's SM and SML series of stage monitors, DAS Audio's Road series of powered, low-profile stage monitors is designed to provide 'high-quality stage sound with no compromise on audience sightlines'.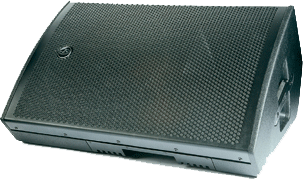 Two models are avaiable, the Road 12A and Road 15A – 12-inch and 15-inch two-way units respectively.
The Road series incorporates class-D power amplification and a switched mode power supply, delivering 550W for low frequencies and 220W for highs. The drivers are attached to a new 40°H x 60°V horn, providing controlled dispersion, and feature neodymium magnet assemblies. High-frequency reproduction features the M-75N neodymium compression driver, designed for use in applications where high SPL with low distortion are paramount. A pure titanium diaphragm – featuring a 75mm copper-clad, aluminium flat-wire voice coil – claims high sensitivity, low distortion and extended frequency response.
Each motor system has a copper shorting ring surrounding the pole piece which effectively reduces eddy current induced distortion, with the added benefit of increasing the very-high-frequency output by reducing the inductive rise of the voice coil.
All signal processing is handled in the digital domain, with DSP that includes FIR filters for constant phase response. Two EQ presets are available, Monitor and Main, which adjusts the frequency response for use on a pole mount as a multipurpose unit.
Manufactured in birch plywood and finished with durable Iso-Flex paint, they feature a compact, modern cabinet design, the reduced size and low profile design of which helps to eliminate the visual obstruction between audience and artist caused by standard-sized wedge monitors.
All connectors are located underneath the front part of the monitor, protecting them from breakage and accidental disconnection. Lifting the monitor rearwards allows easy access to connector panel and LED indicators. A clip LED is located underneath the front grille, providing engineers with a clip indication that can be easily seen.
More: www.dasaudio.com