Intended for applications including stage monitoring, concert sound, live TV, corporate A/V, houses of worship, theatres and auditoria, the latest additions to the EAW MicroWedge Series of stage monitors are the MicroWedge8 (MW8) and MicroWedge10 (MW10).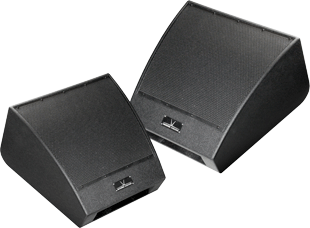 Although smaller than the MW12 and MW15, the MW8 and MW10 claim levels and voicing 'that rival full-size industry-standard 12-inch and 15-inch monitors from other manufacturers'.
The MW8 is the smallest in the MW line featuring an 8-inch woofer, while the MW10 features a 10-inch woofer. Both units' coaxial designs pair the respective woofers with a 3-inch (diaphragm) coaxially-mounted HF compression driver, providing 90° horizontal dispersion.
In applications requiring extremely high vocal and instrument volumes in monitors, the design allows multi-wedge/multi-mix configurations. Dave Rat, Owner of Rat Sound, and co-developer of the MicroWedge Series with EAW, says, 'The design philosophy of the MicroWedge Series is to be able to exceed the competition in loudness with feedback stability, clarity and maximum volume. The MicroWedge12 can match or beat just about any other 15-inch-based wedges on the market in feedback stability and even low-frequency output, and the MicroWedge15 pushes things up another whole level.
'The concept behind the MW10 is to go head-to-head with most 12-inch-based boxes, and the MW8 to challenge 10-inch-based monitors. The MicroWedge project is all about perfecting a compact, attractive, turnkey wedge system that sounds great and reaches high gain before feedback levels with minimal effort.'
'Our MicroWedge8 and 10 are a direct result of feedback from our key end-users,' adds Jeff Rocha, EAW Senior Director of Engineering. 'We wanted to create smaller versions of our MW12 and MW15 with the same voicing and relative power, without sacrificing any of the performance features that make those larger boxes so successful.'
A key application of the MW8/MW10 is for front-of-house or monitor engineers who want a monitoring option at the console. The small footprint allows them to be mounted on top of or next to a live or monitor sound desk, offering an accurate reference to what the performers are hearing on stage without the need for a massive wedge. 'Surprisingly most of the stage monitors out there are voiced to sound-correct with playback music, but MW8 and MW10 are optimised and specifically tailored for live sound,' says Rat. 'The MicroWedge is not an afterthought based on the main system; these wedges are designed from the ground up. With their small, convenient size, they will be of great use to any live engineers.'
Baltic birch cabinets are protected with EAW's proprietary RoadCoat finish, which is resistant to dings and scratches, and a steel grille keeps its distinctive shape. All transducer components are highly liquid tolerant – virtually impervious to spilled drinks as well as natural elements.
More: www.eaw.com