Aviom announced the impending release of Pro64 Network Manager v2.0 PC control application at InfoComm 2011.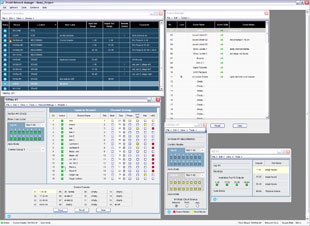 Network Manager 2.0 adds support for Aviom's AllFrame Multi-Modular I/O System, the most recent addition to the Pro64 Series of audio networking products. A field customizable and configurable modular digital solution, the AllFrame is comprised of a host frame, audio I/O cards and a range of mounting options.
Network Manager v2.0 claims 'the power and flexibility of a full crosspoint switch on both inputs and outputs', and allows any audio input or output can be assigned to any Pro64 network audio slot.
'This latest release of the Network Manager brings new flexibility to the Pro64 system,' says Aviom Product R&D Manager, Ray Legnini. 'With a crosspoint switch at every network node, users can make more efficient use of hardware resources and more dynamically distribute audio throughout their system.'
Pro64 Network Manager is a free download from the Aviom website and includes firmware upgrades for all Pro64 Series devices.
Download: Aviom.com/NetworkManager
More: www.aviom.com