DPA Microphones and Klang:technologies have collaborated on an immersive system for singers and musicians in on-stage performance, integrating DPA's 5100 Mobile Surround Microphone and Klang's Immersive Mixing Processor. In addition to Klang's panning capabilities, the use of DPA surround mics eliminates the need for large quantities of microphones to capture the entire environment.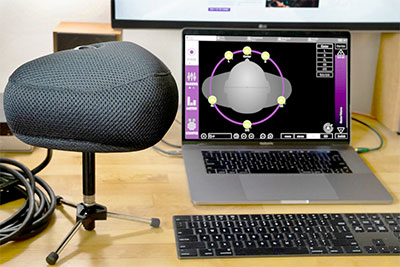 The development is the result of a series of workshops arranged between Klang and DPA. Engineers from both marques saw a bridge between the uncoloured DPA sound and the Klang processing that makes the system equally suited to small clubs and arena tours. Dedicated presets can be integrated through the Klang:app, a control application for all Klang immersive in-ear mixing processors, including the new Klang:vokal and Klang:kontroller. DiGiCo users can also take advantage of the full workflow implementation on the surface of a SD or Quantum range desks.
'The goal is to make it even easier for people to assimilate the DPA 5100 with all our solutions,' says Klang:technologies CEO, Roman Scharrer. 'For touring engineers, it's always important to have a really straightforward, fast and reliable workflow to get the best possible result; the DPA 5100 used in conjunction with Klang's immersive in-ear technology is the perfect approach. We're excited to have been able to collaborate with such a premier surround microphone manufacturer as DPA and look forward to the incredible productions that will result from this solution.'
Klang systems are designed to help musicians become immersed in their performance and, with the addition of the DPA 5100, monitor engineers can now add ambience with ease. The solution makes it possible to have a fully immersive live experience with a conventional set of stereo headphones or in-ears that makes the artists feel as though they are listening to the performance without the isolating effect of IEMs. This is because Klang's specialised functionality allows its in-ear users to hear each area of the venue from the exact position at which they are standing.
Building on a long relationship, the brands first collaborated on this effort when the Klang team created a branded app for DPA to use during tradeshows. 'We were very impressed with the way the Klang software allows performing musicians and show attendees to move through the different sound sources,' says DPA CEO, Kalle Hvidt Nielsen. 'We realised that the DPA 5100 and Klang's technology would be a powerful tool for live productions. The DPA 5100 has been a great solution when needing to capture an arena full of people for a recording. With this collaboration between DPA and Klang, live sound engineers are afforded an integrated, complete audio capture solution. We're excited to see how the pros deploy this system for monitoring, but also look forward to the benefits it will bring to recording and streaming concerts.'
Designed with five built-in pressure microphones, the 5100 does not rely on proximity effect for its LF performance, allowing it to capture low-end from a distance. The arrangement of the microphones within the 5100 follows ITU standards for surround and eliminates gaps between the front and rear positions. This creates a smooth and uncoloured pickup, without any phase issues.
'The 5100 is also incredibly lightweight, which makes it possible to hang from the rig if needed, allowing monitor engineers to easily and efficiently set up the stage,' adds DPA Global Sales Support Manager, Bo Brinck. 'Additionally, the DPA 5100 is now seeing a new objective as a 5.1 surround microphone on stage to capture the 'being there' experience for each musician. This is especially true when incorporating the directional functions of immersive in-ear technology of the Klang systems.'