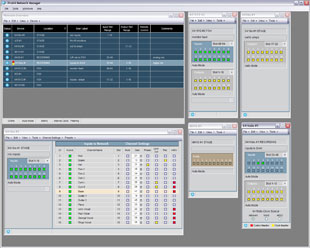 Aviom's Pro64 Network Manager PC control application brings centralised control and status monitoring option to the Pro64 personal monitor system.
A graphical interface provides global and device-specific information, allowing on-screen management of audio networks from a single location. Pro64 provides remote control of every device in a network through a PC connected to the network's Control Master device. Network settings and audio parameters for each Pro64 device can be handled onscreen, simplifying channel routing, network management, streamlining the workflow and increasing the flexibility of the network as a whole. Device-level presets can be saved and recalled for commonly used local settings for individual Pro64 modules, as well as network-wide scenes that can reset an entire network with one click of the mouse.
'In designing the Pro64 Network Manager, our goal has been to make the application as intuitive as possible from the user's perspective, building on the inherent strengths of the Pro64 hardware,' says Aviom's Product Research and Development Manager, Ray Legnini. 'The addition of the Pro64 Network Manager application increases the flexibility of the Pro64 Series by giving our users, particularly those with permanently installed Pro64 networks, even more setup options to meet their specific needs.'
Pro64 Network Manager connects to a Pro64 audio network via an RS232 interface and makes use of its built-in Managed Mode to simplify tasks related to supporting and configuring Pro64 networks. All settings can be monitored, including channel activation and routing, internal/external clock source, sample rate, m-control set-up for remote control of Pro64 mic preamps from a Yamaha digital console, Virtual Data Cables, and firmware version. The software further simplifies network and device management by providing location, device and channel naming.
The software is available as a free download from the Aviom website.
More: www.aviom.com