ASI Audio x Sensaphonics has upgraded its flagship 3DME IEM system, adding Bluetooth connectivity for the ASI Audio App, which now offers wireless set-up and control via any current iOS or Android device.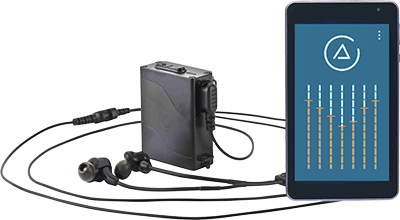 'The ASI Audio Active Ambient 3DME system has been embraced by our customers for its ability to deliver an unparalleled stage monitoring experience,' says ASI Audio VP of Marketing & Sales, Evan MacKenzie. 'Now iOS device users have direct Bluetooth control of the 3DME system's full range of setup and control capabilities.'
The core 3DME system remains unchanged, using patented Active Ambient technology to blend a monitor mix with natural room sound from bandmates and audience. The 3DME Music Enhancement IEM System consists of Active Ambient earphones (with embedded binaural microphones) and a bodypack that houses a headphone amp, dual mic pres, earphone and monitor I/O and DSP for signal processing and mixing.
System control is through the companion ASI Audio App – the Bluetooth version allows users to pair any common portable device with the 3DME bodypack mixer for untethered adjustment of the system's 7-band independent stereo EQ, limiter threshold and the blend of monitor mix and stage ambience via the free ASI Audio app. The app also offers access to an Audio Seal Test to confirm perfect IEM fit and allows the saving and recall of User Presets to ensure repeat access to preferred sound signatures.
In operation, after locking in EQ and limiter settings, up/down switches on the bodypack make it easy to add amount of ambience to the monitor mix, so performers can hear exactly what they want, no matter the style of music or type of venue. The 3DME can also function as variable-level, high-fidelity earphones for playback. The universal-fit earphones supplied with 3DME can be converted to custom fit with silicone sleeves from Sensaphonics.
For touring professionals, ASI Audio's Parent Company, Sensaphonics, now offers the 3DME Custom Tour version, which packages the system's universal-fit, dual-driver IEMs with MEMS ambient mics into Sensaphonic's acclaimed full-shell, soft silicone pro earpieces.
The ASI Audio x Sensaphonics 3DME with Bluetooth is priced at an MSRP of US$699.
More: www.asiaudio.com