Spanish company Idea Pro Audio has released the Exo SM16-A Active Multipurpose Stage Monitor, suitable for use on stage, as a fill loudpeaker and as a portable A/V and installed sound reinforcement loudspeaker.
The high-power density, compact footprint and symmetric design of the Exo SM16-A provides sound engineers and monitor users with most high SPL, high dynamic headroom and deep low frequency extension in a shallow cabinet. In its vertical orientation, the Exo SM16-A acts as a powerful PA loudspeaker that can be flown with a specific U-bracket.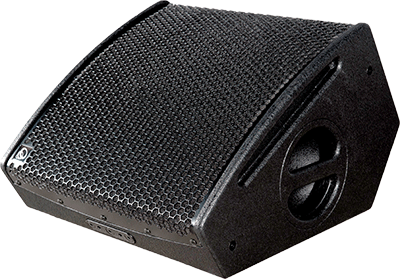 The HF section of the SM16-A uses a large magnetic assembly (150mm) for its 3-inch voice coil, 1.4-inch exit compression driver (also used in the company's Evo88) coupled to an 80° x 50° dispersion horn. This large HF system ensures clear, undistorted MF/HF and very high SPL at both stage monitoring distances and in stage fill/FOH applications.
DSP presets included in the Powersoft 1.2kW power-module offer four options – Stage Monitor is the basic preset for onstage standing performers (with vocal or instrument microphones situated between 1.55m and 1.85m from the monitor) with de-emphasis of critical troublesome frequencies to expedite the monitor mixing engineer work; Close Field is intended for musicians that play or perform while sitting down, with the monitor much closer (900 mm to 1300 mm), like drummers, pianists and guitarists; Full Range offers a linear and flat response for use as main PA in portable systems or as side/front/stage fill, covering larger distances and audiences; and the 100Hz HPF preset offers uncoloured sonic characteristics with greater dynamic headroom when used with subwoofers as a drum fill or FOH.
Exo SM16-A is available with a tilt-andlock U-Bracket for pole mounting and truss suspension. A two-unit wheeled flightcase (with all necessary power and signal cabling) is optional, as well as soft-padded protective covers.
Key features:
1.2 kW class-D Powersoft power module.
Integrated 48kHz/24-bit DPS with presets.
8-inch Premium European custom Idea transducers by Beyma.
130/136dB SPL (continuous/peak).
72Hz-18kHz(-3 dB) frequency response.
Neutrik PowerCon and XLR connectors.
Rugged and durable 15/18mm birch plywood construction.
1.5mm Aquaforce coated steel grille.
36mm Pole mount cup.
Dedicated transport, installation and rigging accessories.
More: www.ideaproaudio.com