WorxAudio Technologies has announced the TrueLine V5M (passive) and V5M-P (powered) ultra-compact fill/monitor systems, aimed at front fill, close fill, under-balcony and choir monitor applications.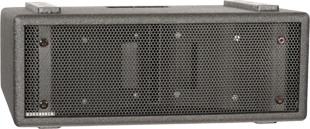 The V5M and V5M-P incorporate a medium-format 1-inch exit compression driver coupled to a stabilised, proprietary FlatWave Former (wave shaping device), while dual 5-inch cone transducers coupled to an Acoustic Intergrading Module (AIM) minimise cone filtering throughout the entire operating range.
The powered V5M-P, uses the company's all-new PSD-500 power amp module. Dedicating 350W to the V5M-P's LF section and 150W to the HF section, this features four digital programmes and has both male/female (loop through) XLR isolated I/O as well as AC PowerCon I/O. The PSD-500 module resides on the rear of the enclosure.
Both the V5M and V5M-P have a 120° symmetrical horizontal coverage pattern and 30° vertical dispersion pattern for monitor and fill use.
The enclosure is constructed from multi-ply Baltic Birch and is heavily braced for cabinet rigidity, with the passive model weighing 30lb, and the active version weighting 32lb. Protecting the enclosure is a multi-layered, polyurea finish that is available in black or white. A 16-guage, perforated, cloth-backed, powder coated steel grill with a high transmission ratio protects the transducer complement.
Measuring 18 inches wide by 13 inches deep by 6.8 inches high, both the V5M and V5M-P feature one side that is flat with a 90° angle to the floor for use as front fill, providing coverage to audience areas close to the stage. The other side of the enclosure features a 5° slope for use as a floor monitor. With their broad 120° horizontal dispersion, a single V5M or V5M-P placed in the centre of the stage area can readily serve as the monitor for a choir or group of performers.
'The V5M and V5M-P were designed to address the audio community's desire for ultra-compact, high performance loudspeaker systems with the versatility to function as a front fill, under balcony fill, or as a monitor wedge – and that's precisely what the flat and 5° angled sides of these enclosures accomplish,' says Hugh Sarvis, WorxAudio Technologies' CEO and Director of Engineering. 'Combined with their industry-leading, 120° horizontal dispersion, the V5M and V5M-P fill/monitor systems provide unusually broad dispersion. With their unobtrusive appearance, these new loudspeaker systems represent exceptional value.'
More: www.worxaudio.com