Renkus-Heinz has added the CA/CX121M compact stage monitor to its C Series line.
Available in passive (CX121M) and powered (CA121M) models, the single 12-inch stage monitor/multipurpose loudspeaker uses next-generation coaxial driver technology, providing identical horizontal and vertical off axis performance to allow artists freedom of movement without changes in frequency response – a capability made possible with acoustically time aligned point source, phase coherent devices. The result is maximum intelligibility and transparency in a highly capable and compact package.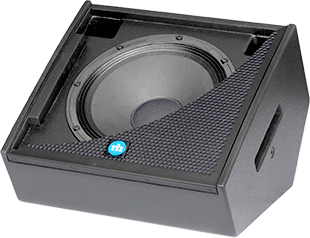 Designed not only as a stage monitor, the CA/CX121M is also suited to use as a portable and installed PA. It can be used as a pole-mounted side fill – using the optional pole adapter – or sound reinforcement system without the need to rotate or reconfigure the drive unit. Also, the UBRKT/CT121M mounting yoke is available to facilitate permanent installation configurations.
The CA/CX121M uses a 12-inch (300mm) high-efficiency coaxial transducer mounted in a compact and sturdy, black or white durable plywood cabinet.
Ergonomic and discreet recessed handles – along with the optional pole adapter – make portable use easy and practical. Further, the unit's robust perforated steel grille is designed to provide driver protection.
The optional SA625 power amplifier matches the power needs of the CA121M, providing optimised processing for performance and protection. The integral amplifier eliminates the need for additional rack space and speaker cable runs. Controlled via Rhaon II, the SA625's DSP has eight fully parametric EQ filters, high and low shelf and high- and low-pass filters, and up to 358ms. of delay. All options are accessed via a Windows computer running Rhaon II. In addition, a single CA121M can power one additional CX121M with Bi-Amplified, processed output via an NL4 output. The CA121M-RD also supports Dante digital signal distribution, including AES67 compatibility and network redundancy.
'The CA/CX121M is the culmination of extensive customer and market feedback,' says Renkus-Heinz Product Manager, Brandon Heinz. 'The addition of the CX/CA121M supports the totality of the C series as an innovative stage monitor, delivering exceptional performance and consistent coverage at a very attractive price point.'