Designed for live solo entertainers and bands, mobile DJs and rental companies, the Electro-Voice PXM-12MP is a, two-way stage wedge with coaxially aligned 12-inch LF and 1.75-inch HF transducers. Its small footprint and weight of 29.8lb (13.5kg) make it extremely portable. It also marks Electro-Voice's debut in the powered stage monitor market.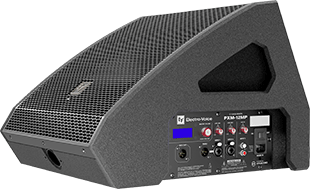 The acoustically optimised 55° monitor floor angle of the PXM-12MP enables artists to stand as near to or as far away from the system as necessary without sacrificing audio intelligibility. The wide 90° horizontal angle also gives the freedom to move across the stage, rather than being constrained to a small area.
The PXM-12MP also shows great flexibility due to its 90° x 90° coverage pattern. It equally performs well as a fill, delay, or mounted on a pole working as a sound system for short-throw applications; subwoofers can also be connected whenever extra bass is needed. The PXM-12MP comes with several x-over settings, including settings for ELX200 and EKX subwoofers.
The built-in two-channel class-D 700W amplifier, developed in collaboration with EV sibling brand Dynacord, provides plenty of headroom and a maximum sound pressure level of 129 dB.
EV's QuickSmart DSP features a backlit LCD panel and a push-button encoder, providing best-in-class signal processing with IIR/FIR settings. The integrated digital three-band EQ features factory presets for various application modes, as well as five individual user presets. A high-Q notch filter can eliminate troublesome feedback frequencies. The delay function with 0.1m increments provides precise adjustment when used as a delay speaker. The GuitarCab setting allows to connect a guitar directly to the PXM-12MP via a DI box.
A recessed connection panel is located on the side of the speaker, ensuring it is well protected and also easily accessible when used on a pole. It features two XLR/TRS combo mic/line inputs, an individual phantom power option, a stereo RCA aux input for playback music sources, and an XLR Thru input when used as part of a distributed sound system. An XLR MixOut output allows the cabinet to act as a basic three-channel mixer that can send the mix to another loudspeaker. PXM12-MP's integrated cable management reduces stage clutter and prevents tripping over cables; clean cable routing and strain relieve is guaranteed when used on a tripod or pole.
The PXM-12MP stage monitor is housed in a durable, 15mm plywood enclosure with rugged EV-Coat and is furnished with a robust powder-coated steel grille to guarantee roadworthiness for everyday use.
The PXM-12MP will be available in February 2020.
More: www.electrovoice.com