Electro-Voice has launched the MFX-12MC and MFX-15MC Multi-Function Monitors – passive 12-inch and 15-inch two-way coaxial monitors with a performance level engineered to complement the X-Line Advance line array models X1, X2, X12-128 and X12-125F, and corresponding installation versions.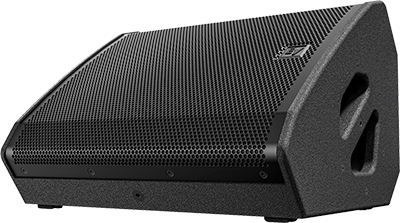 MFX Multi-Function Monitors use high-output coaxially aligned HF and LF transducers matched with an innovative new Electro-Voice-engineered Constant-Directivity waveguide and a new crossover design. Coverage in monitor orientation is 40° H x 60° V. The dimensions and location of the waveguide interact with the woofer to effectively create a bipole output, enhancing coverage control through the midrange frequencies.
In addition to providing a stable sound image as the performer moves off-axis, the compact coaxial design presents a low profile on stage, helping to maintain audience sight lines and reducing stage clutter. A new cabinet concept with dual monitor angles (35° and 55°) allows the output to be precisely focused towards the performer.
MFX Multi-Function Monitors are optimised for use with TGX10 or IPX10:4 amplifiers from EV's sibling brand Dynacord. Both models can be deployed in passive or bi-amp configuration, and can be optimised for different uses via DSP settings in the amps. Power handling for the MFX-12MC is 400W (continuous) and 4000 W (peak); the MFX-15MC delivers 500W (continuous) and 4kW (peak). Each model has a maximum SPL rating of 135dB and 136dB respectively.
In addition to their primary function as high-performance stage monitors, both models have an integrated pole cup (located in one of the two side handle recesses), enabling them to be used as short-throw main/full-range sound reinforcement for portable applications using tripods or subwoofer poles. Coverage in this orientation is 60° H x 40° V. Maintinaing their multi-functional design, each model features four M10 suspension points. U brackets, yokes, a tilt adapter, truss clamps, stand-mount adapters and a rigging bar are available for temporary or permanent installations. A rugged EVCoat finish (available in black or white) and 1.5mm-thick corrosion-resistant grille combine professional-grade durability with sleek aesthetics.
MFX Multi-Function Monitors were developed to deliver a best-in-class combination of professional performance and excellent value. Target customers include production companies that provide sound systems for any kind of live performance, including spoken-word presentations, corporate events, worship services and concerts.
More: www.electrovoice.com