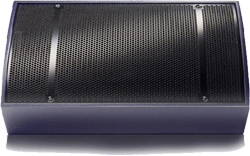 To be launched at the coming Frankfurt Pro Light & Sound show, the Funktion-One PSM12 is an extremely powerful yet compact floor monitor that promises 'the qualities of the ground-breaking RM18 in a much smaller package'.
The PSM12 features a custom designed 4-inch voice coil 12-inch driver for maximum power at low frequencies, and a 1.4-inch compression driver for high frequencies. Funktion-One's driver technology allows the compression driver crossover point to be nearly an octave higher than is typical, resulting in an extremely present but smooth sound, particularly under pressure. The 70° high-frequency conical waveguide is concentric with the 12-inch driver, giving a point-source arrangement for even coverage and minimum feedback.
The monitor can be switched between passive and active operation and is supplied with a 35mm integral stand mount.
More: www.funktion-one.com