Sennheiser is introducing a new series of professional in-ear monitors, beginning with the IE 40 Pro entry model.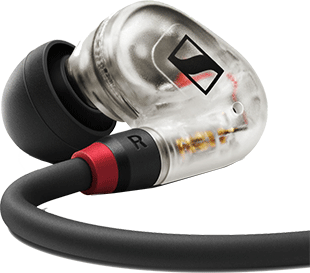 At the heart of the IE 40 Pro is a high-quality Sennheiser driver with distortion at 0.1% at 1kHz and 94dB. Neodymium magnets provide the required power with an SPL of up to 115dB. The system's 'natural' sound reduces acoustic stress for users, who will be able to set the monitors at a lower level.
This audio performance is complemented by a mechanical design that includes a patent-pending cable ducting that reduces the risk of cable breaks. The connector is accommodated inside the ear mould, where it sits protected against the wear and tear that occurs during heavy use.
To protect users against excessive stage sound, the IE 40 Pro are able to reduce ambient sound by up to 26dB. This is achieved by a choice of included silicone ear tips and a special ear tip made from memory foam, which expands to fit the ear canal. As the length of the human ear canal varies, the earphones' 'sound tunnel' has two rest positions to attach the ear tips to. Thus ensuring perfect sealing has the added benefit of providing powerful bass reproduction.
The IE 40 Pro will be available in black and transparent versions from Q4 2018. It comes with a soft storage pouch, a cleaning tool and silicone ear tips in three sizes (S, M, L) and a pair of memory foam ear tips in size M.
'The IE 40 Pro is the first and most accessible in a new series of fantastic sounding dynamic in-ear phones,' says, Product Manager for Professional Audio, Jannik Schentek. 'In the field test phase, the IE 40 Pro's sound reproduction astounded the engineers and bands that tried the prototypes. They were delighted with the clear and natural reproduction, which enabled them to better connect with every member of the band and to critically monitor their performance.'
In early 2019, the IE 40 Pro will be joined by the IE 400 Pro and the top-of-the-range IE 500 Pro.
More: www.sennheiser.com